Single-Molecule Transport Measurements between Nanoelectrodes
Nanoelectrode devices for single-molecule transport measurements have been fabricated using different techniques. They notably differ in the way the nanogap or the molecular junction is created.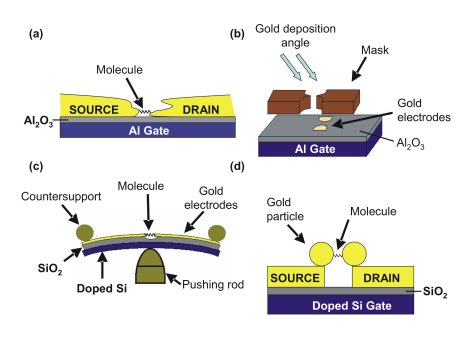 Different types of nanoelectrodes for single-molecule transport measurements:
a) electromigration b) angle evaporation c) break junction d) nanoparticle dimers
Using the mechanically controlled break junction technique (MCBJ) the charge transport of a single ruthenium (II) atom clamped by two terpyridine hinges was investigated. The current-voltage (I-V)-characteristics through a single [Ru(tpy)2](PF6)2 molecule were acquired under ultra-high vacuum (UHV) conditions at various temperatures. DFT-simulations show that the Cardan-joint structural element of the molecule controls the magnitude of the current.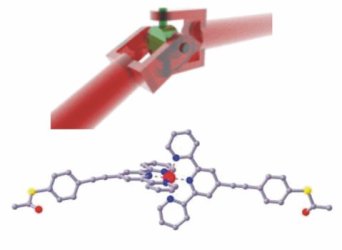 Figure showing the [RuII(tpy)2]2+ molecule acting as an electronic Cardan-joint